Multi Ch Riverwatcher Atka BWBE'14, BWNL'15/16, CW'16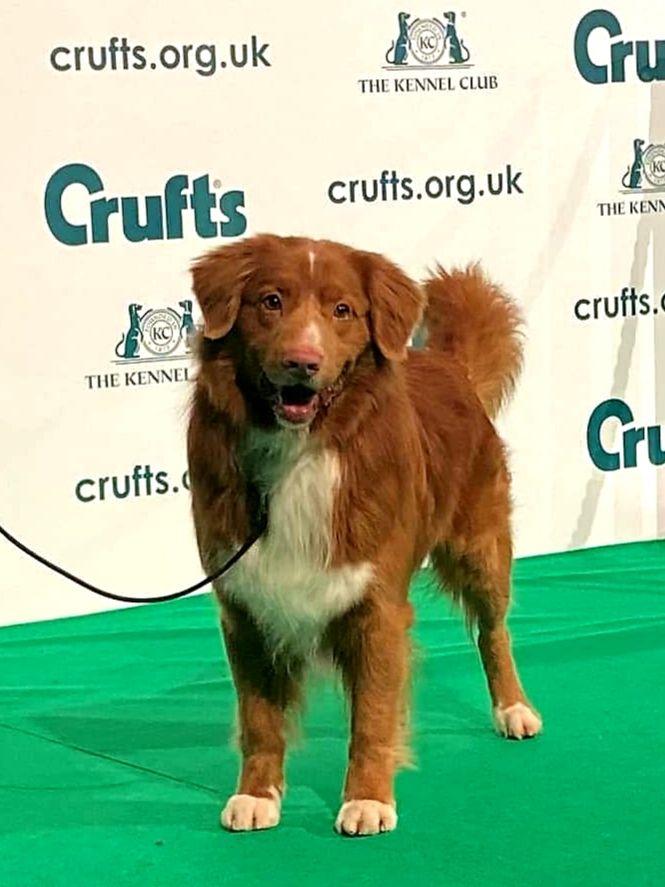 ** He is health tested & is available at stud to approved bitches **
Crufts 2020 Best of Breed
Crufts 2017 Best Dog
BIS NSDTR Champ Show 2017 & 2019
Top Toller 2016 & 2017

**** Qualified for the Contest of Champions 2017 ****
13 x CC, 7x RCC
13 x CACIB, 3x RCACIB
15 x CAC, 4x RCAC
3 x Green Star
BIS at NSDTR Club of UK Championship Show 2017 & 2019
BIS at NSDTR Club of UK Open Show 2013
RBIS at NSDTR Club of UK Open Show 2014/2015
BIS at Belgian Toller Club 2015 & 2016
BOB (Championship Shows) x 20 (16x UK, 6x Europe)
Riverwatcher Atka, is a Koda/Scout puppy from Koda's final litter. His name means Guardian Spirit in Inuit.
He is a cheeky chappie with unboundless energy at the moment! It was a difficult decision but once again I seemed to be picking up the same puppy and at 6 weeks of age he seemed to have possible show potential so now it is a case of wait & see. However as showing is not the be all and end all of life for us, he will also be taken to agility, obedience and possibly gundog training to make his and my life interesting.
He is waiting (impatiently lol!) to get his final vaccinations so that he can explore the world. Currently he travels in a gundog bag and is quite vocal about his frustration with his present mode of transport. He loves to explore the garden and when not playing "pounce on his mother", he enjoys pruning the borders for my mother!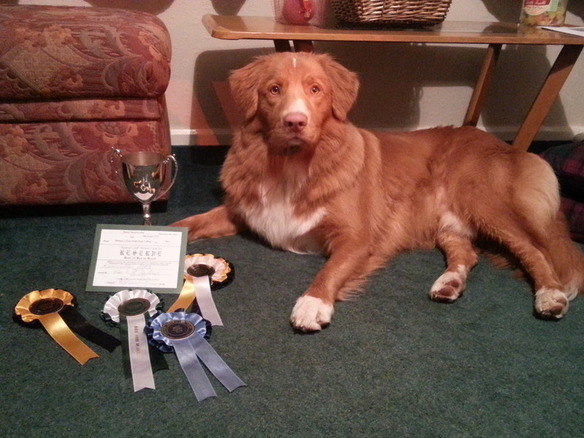 Riverwatcher Atka is now 9 months old and is growing into a stunning boy (I am biased don't forget!). He has maintained his love of gardening - he has taken to digging holes to plant things in!! We have had some wonderful show results with him - He has received 4 Best Puppy awards (3 at Championship level), 1 Reserve Best Dog and 2 Reserve Best of Breeds (1 at Championship level). He is maturing nicely and I can't wait to see how he gets on in the future.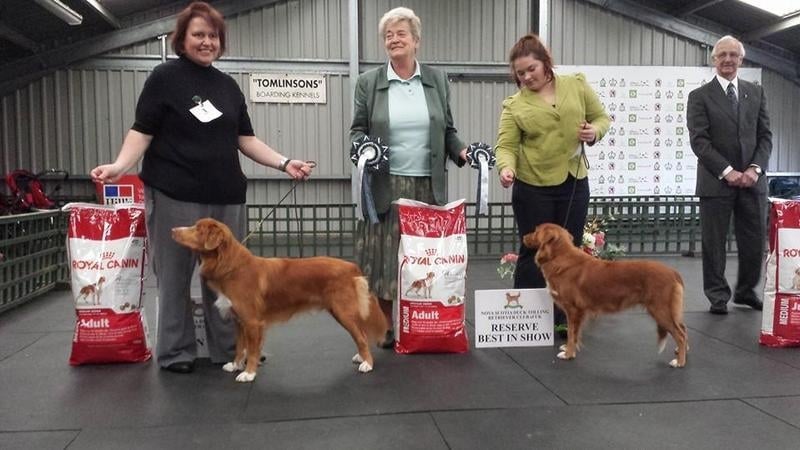 Well my boy has just surpassed himself at the NSDTR Club of UK's Open show - he went Best in Show under Mrs Liz Cartledge aged 13 months. It was a fabulous day for the Riverwatcher clan with his older half sister Riverwatcher Ikkuma losing out to him in the BIS challenge and becoming the Reserve Best in Show and his mum Shoredancer Sea Pink via Riverwatcher being the Best Veteran Bitch although she lost out for Best Veteran in Show to Kiva's Grandad Raggs, Littleriver's Colonial Boy at Tollyhimmel.
Riverwatcher Atka is now 2 & 1/2 years old. He has won 4 Reserve Challenge Certificates, 4 Belgian CACs, a Netherlands CAC, 4 CACIB and is a Benelux Winner BE 14 and NL'15, he was also Reserve Best in Show at the NSDTR Club of UK's 2014 Open show. He is a loving and gentle boy who has surpassed all my expectations.
March 2016 and Riverwatcher Atka is now a confirmed Luxembourg/International Show Champion and we are waiting for his Belgian Show Champion title to be confirmed. He has currently won 1 CC, 4 RCC, 7 CACIBs, 11x CACs, 1 Green Star and 3 RCACIBs. He has won International awards in Belgium, France, the Netherlands, Ireland and Italy and has been Best in Show at the Belgian Toller Club Championship show 2015 & 2016.
It is now May 2016 and Riverwatcher Atka is a UK Show Champion, He gained his 2nd CC under world renown judge Frank Kane who was kind enough to say "hurry up and make him a champion he deserves to be one" and two weeks later he got his 3rd CC under John Thirwell - with his 1st CC from Jill Peak this has given him enough for the UK Show Champion title. This makes me the first breeder to have bred 2 UK Show Champions - Riverwatcher Atka is also the first UK Toller Champion to also hold International titles other than the Irish Champion title.
This wonderful boy has nothing left to prove yet he still won his 4th CC under Mr Jonathan Daltrey in August 2016. He, to me, is still so handsome and at just 4 years old still has so much potential to go further.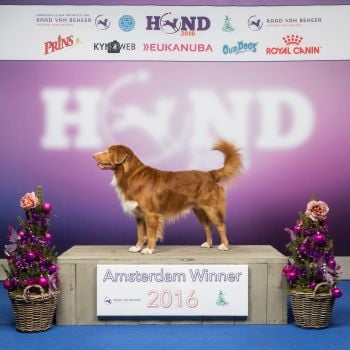 It is now March 2017 and Riverwatcher Atka has had a fabulous year so far - he was Best Opposite Sex at Crufts under Mr Jeff Luscott and a week later he was awarded Best in Show at the NSDTR Club of UK's Championship Show taking his CC total to 6. We also had the honour of being invited to participate at the Contest of Champions.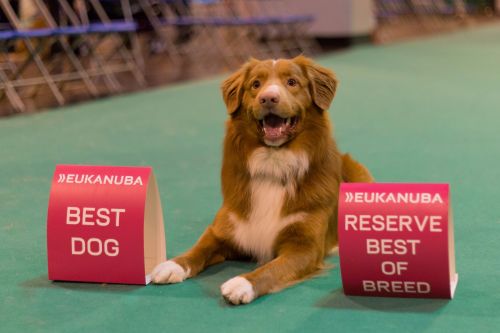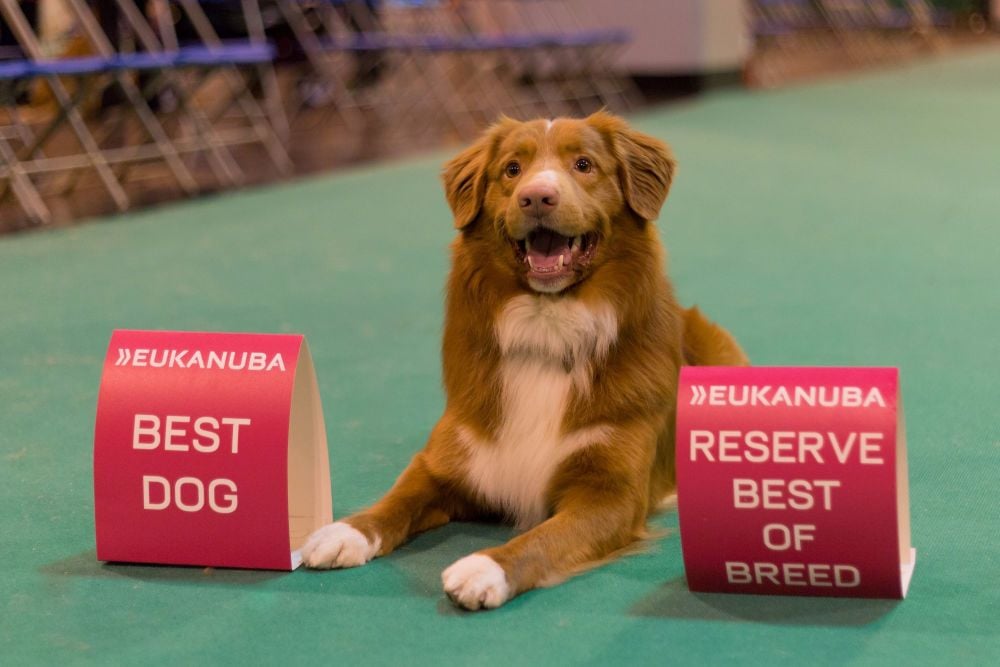 Kyro is now a veteran and has hit the highlight of his show career by being Best of Breed at Crufts 2020. He has sired 3 litters and there are several very promising youngsters in the litters.
Thanks again to Anniemek for letting me use her Scout with Koda to produce this fabulous boy and his brothers and sisters!