Riverwatcher Atka's show results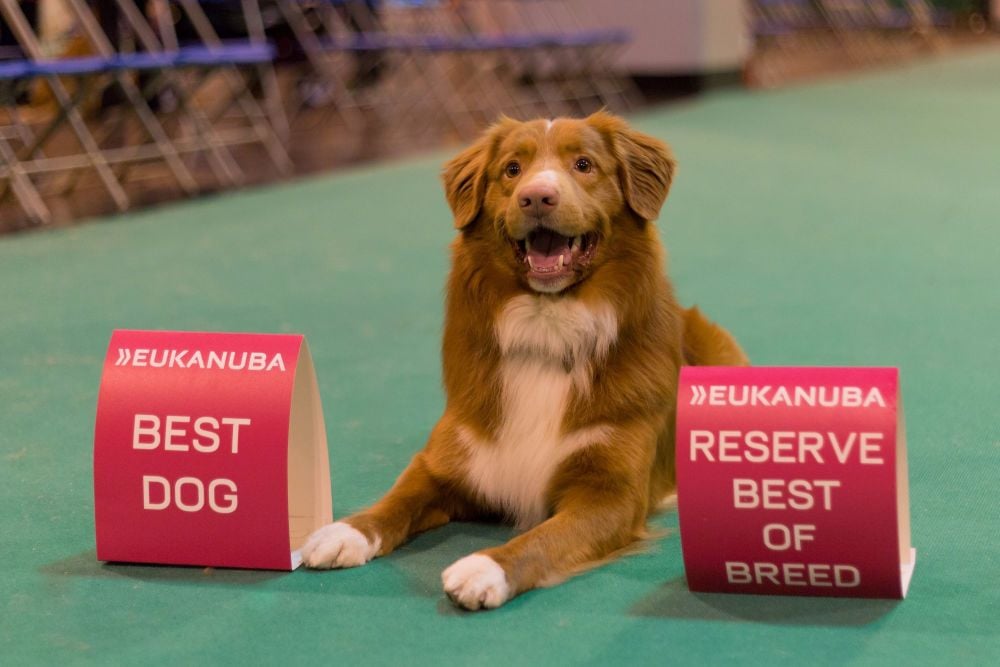 Mrs Babs Harding (Breed Specialist) , SKC 2013
"What a super puppy to start with, pleasing head & expression, good neck & shoulders, well bodied, good bone & feet, moving so well for such a baby, very responsive to his handler, I look forward to watching his progress with interest. BP"
Mrs S Sevastupulo (Breed Specialist), Paignton 2013
"Pleasing youngster of good shape & strength. Correct shaped head with good ears. Has good bone & substance, plenty of coat of good texture & is well made all through with good angulation, correct topline & well feathered tail. Has a lovely playful temperament, moved soundly & has that jaunty action so typical of the breed. BP"
Mrs Jenny Miller, URC 2013
"This is my type of Nova who so fits the Standard, very attractive medium sized youngster of 9 months & a new one to myself, stunning side profile & just as nice to go over, super head, well shaped with kind almond shaped medium wide set dark eyes, good base to high set on triangular ears, good length to clean neck with feathering, well laid back shoulders & super foreangles, elbows well in on straight well boned legs, lovely feet, level back over a body with depth & substance, ribs well sprung into short strong loin, hindquarters well muscled & with good return of stifle, super red soft double coat so well presented with the correct white tip to his heavily feathered waving tail, movement was very impressive springy & so sound with great drive & ground coverage. RBD, BP"
Mrs Liz Cartledge, NSDTR Club of UK Open Show 2013
"BIS, Anstead's Riverwatcher Atka, 13 months, comfortable winner I thought, good head, broad skull, well balanced, well coated and presented, fit & well muscled, ample bone, very good topline & quarters, held his topline on the move which was springy with good rear drive, focused and positive all the way through & really deserved his BIS win".
Mr Richard Stafford, Chertsey & District Open Show 2014
"BOB & Group 4, Pleasing expression and neat ears, correct length of neck leading to well angulated shoulders, enough bone and neat feet, deep chested body, maintaining an excellect topline standing and moving, super hindquarters which he used to advantage on the move, shown in excellent coat and condition, should have a good future"
Mrs Jill Peak, Welsh Kennel Club 2015
"Anstead's Riverwatcher Atka. Two and a half yr old male, very nice breed type, full of quality. Good masculine head without coarseness, good neck and front assembly, nice bone, good legs and feet, good body, well ribbed, strong loin, good quarters and set on. Went well both ways and in profile. Shown in good coat and condition." CC & BOB
Mr Bill Bunce, South Wales 2015
"Anstead's Lux Ch Riverwatcher Atka. Well developed three year old in tip top condition and so well prepared and presented. So very typical of the breed. Excellent shape to skull and muzzle. Correct clean dentition. So keen yet biddable. Ideal depth to chest and excellent balance between front and rear assemblies. Level topline maintained throughout. Well muscled over loin and good bone all through. Good driving action from well placed hocks and neat feet. Moves to maximum effect with minimum effort. I couldn't find fault in him. Happily my co-judge agreed he was Best Dog & BOB"
Mr Frank Kane, Birmingham National 2016
"Lux Ch Riverwatch Atka, 3 ½ years, lovely type & an excellent mover, in beautiful condition, excellent head & eye. CC & BOB;"
Mr John Thirwell, Scottish Kennel Club 2016
"Anstead's Lux / Int Ch Riverwatcher Atka CW16. Quality dog well constructed throughout. Pleasing head with good eye and expression. Deep well made body with lovely legs and feet. Strong powerful hindquarters. Moved soundly with drive and shown in lovely coat & condition. A pleasure to award him CC I later learned his 3rd well done"
Mr Andrew Brace, Midland Counties 2016
"Handsome dog fully mature & of excellent overall type. Correctly proportioned outline, very typical head & expression, nicely marked, well boned, good spring of rib, firm topline. Moves true with scope & power. Easy BOB winner"
Mrs Jenny Miller, NSDTR Club Of UK Championship Show 2017
"Anstead MULTI CH RIVERWATCHER ATKA This young dog was my star of the day and I was so pleased to learn and then realize that I had judged him 4 years earlier as a baby and awarded him Best Puppy in breed and Res best dog so in finding him today amongst the quality in this class was special. He stood out with lovely ring presence with good attention to his handler, stands covering the ground well having a good balance and nice moderate shape and size. Has a great head piece clean lines super dark almond alert eyes, well dropped triangular ears well used and feathered, clean flowing neck to shoulders, holds a firm short back broad rump with a slight slope well feathered high set tail waving with nice tip. Correct angulation front and rear with good body substance and muscle tone. Cleanly presented and conditioned straight dense light red coat of a good texture. Elbows well in to brisket on moderate strongly boned legs and tight arched webbed feet. Short hocks well let down. Stunning mover very powerful brisk side stride and very sound front reach and an impressive rear driving action which showed and won him BIS over the bitch in the challenge. DCC BIS."
Mrs Tina Westwood (Breed Specialist), Birmingham National Championship Show 2017
"Anstead's Sh Ch Int Ch Lux Ch Bel NL Ch Riverwatcher Atka CW, very nice breed type, full of quality. Good masculine head without coarseness, good neck & front assembly, nice bone, good legs & feet, good body, well ribbed, strong loin, good quarters, tail correct set. Went well both ways & in profile. Shown in good coat & condition.CC & BOB."
Mr Jeff Horswell, Scottish Kennel Club Championship Show 2017
"Anstead's Multi Ch Riverwatcher Atka CW16. Really super dog who is so well made and conditioned. Super head. Plenty of neck which is strong. Grand body. Firm in topline. Could be tidier out and back but goes with an easy profile stride. CC & BOB"
Mrs Diane Stewart-Ritchie, Gundog Society of Wales 2017
"Anstead's Sh Ch/Bel/Lux/Nl/Int Sh Ch Riverwatcher Atka CW'16,BWNL'14/16, BWBE'1, BD & BOB. Wow! What a stunner! Everything in the right place. He screams Duck Toller to you and when he moves he just takes it to another level. Presented in rock hard condition and in full immaculate coat. Topline solid and sure and never once loosing it on the move. Correct wedge shaped head with good eye and enough work.. Clean in foreface with nice big nose. Ear set correct and of medium size. Great front assembly, fabulous ribs and short strong loin. Super rear quarters and correct tailset. Stands over a good amount of ground and has the correct length to height ratio. Strong bone and neat feet. There is nothing overdone about him - moderate but correct. When he moves his side gait is eye catching with that lovely spring in his step so synonymous with the breed. Super head carriage and tail action. He was pushed hard by his kennel mate for BOB, just edging it with his typical movement"
2019
Show name
Judge
Class
Placing
Comment

NSDTR Club of UK Champ Show

Mrs C Coode

Open

1st

BEST IN SHOW

& DCC
2017
Show name
Judge
Class
Placing
Comment

Manchester Champ Show

Mr K Young

Open

1st

BOB

Merseyside Gundog Open Show

Mr R Stafford

Open

1st

BOB & Group 4 in Show

Crufts

Mr J Luscott

Open

1st

DCC & BD, BOS

NSDTR Club of UK Champ Show

Mrs J Miller

Open

1st

BEST IN SHOW

& DCC

Combined Canine Int Ch Show

Mr T Bradley III

Champion

1st Excellent

CACIB, Green Star & RBOB

Combined Canine National Ch Show

Mr S Scarpellini

Champion

1st Excellent

Green Star & BOB

Amiens

Mr R Soulat

Champion

1st Excellent

CACIB & BOB

Birmingham National Ch Show

Mrs T Westwood

Open

1st

DCC & BOB - shortlisted in Group

Scottish Kennel Club

Mr Jeff Horswell

Open

1st

DCC & BOB

Windsor

Mrs Aidine Howes

Open

1st

RDCC

Hampshire Gundog Open Show

Mr R McDonald

Open

1st

BOB

National Gundog

Mr D Hutchinson

Open

2nd

WKC

Mrs P Blay

Open

1st

DCC & BOB

Richmond

Mrs P Williams

Open

1st

BOB

SWKA

Ms W Bebb Sutton

Open

1st

BOS

Gundog Society of Wales

Mrs D Stewart-Ritchie

Open

1st

BOB

Midland Counties

Mrs S Pinkerton

Open

1st

BOB

NSDTR Club of UK Open Show

Mr R Bott

Open

1st

RBD

Coventry & District Gundog

Ms R McDonald

Open

1st

BOB & RBIS

Ladies Kennel Association

Mr C Atkinson

Open

1st

BOB
Show name
Judge
Class
Placing
Comment

Hoogstraten, Belgium

I Kuyken

Open

1st Excellent

RCAC & RCACIB

Manchester, UK

H Fryckstrand

Open

2nd

Gent, Belgium

R Bloome

Open

1st Excellent

BOS,CAC & CACIB -

Belgian Sh Ch title earned

Crufts

B Smith

Open

4th

IKC Celtic Winners Show, Ireland

D Stewart Ritchie

Champion

1st Excellent

BOB,Green Star & CACIB

Chertsey & District Canine Society

R Millan

Open

1st

BOB

Belgian Toller Club Championship

M Legrand Leloup

Champion

1st Excellent

BEST IN SHOW

& CAC

Belgian Retriever Club Championship

D Chalard

Champion

1st Excellent

BOS, CAC

Birmingham National

Frank Kane

Open

1st

2nd CC & BOB

Scottish Kennel Club

John Thirwell

Open

1st

3rd CC - UK Sh Ch

Paignton & District

Sky Westwood

Open

1st

RBD

National Gundog

Carol Coode

Open

2nd

Welsh Kennel Club

Jonathan Daltrey

Open

1st

4th CC

City of Birmingham

Judy Harrington

Open

2nd

RBD

Richmond

Gordon Haran

Open

1st

RBD

Maastricht Day 1

W Holstenbech

Champion

1st Excellent

BOB,CAC & CACIB

Maastricht Day 2

R Leelen

Champion

1st Excellent

RCAC & CACIB, BWNL'16

Midland Counties Champ Show

A Brace

Open

1st

BOB

Mid Herts Gundog Open Show

Open & Champ

1st & 3rd

BOB

The Holland Cup

Mrs M Blaha

Champion

1st

BOB,CAC & CACIB

Amsterdam Winner Show

Dhr A Simons

Champion

1st

BOB,2CAC, CACIB & Winner'16 - NL Ch
Show name

Judge

Class

Placing

Comment

Mouscron, Belgium

Mrs Shenashenko (Russia)

1st Excellent

Martinidog show, Netherlands

Dr L Hearn (Australia)

Open

1st Excellent

BOB,CAC,CACIB, Benelux Winner NL 15

NSDTR Club of UK Champ Show

Mr Moray Armstrong

Limit

1st

RCC

Luxembourg

Mr Walter Van Den Broeck

Open

1st Excellent

CACL

Belgain Retriever Club Champ Show

Mr Frank Whyte

1st Excellent

RCAC

Belgain Toller Club Champ Show

Ingrid Kuyken (Breed Specialist)

Open

1st Excellent

BEST IN SHOW & CAC

Southern Counties Canine Association

Mr Harri Lehkonen

Open

1st

World Dog Show,

Milan, Italy

Mr Nerilli Luigi

Open

1st Excellent

RCAC

Douai, France

Mr De Mello

Open

1st Excellent

BOB,CAC,CACIB

Hampshire Gundog

Hilary Male (Breed)/Ramsey Nagaty (BIS)

Open

1st

BOB & Group 4

National Gundog

Mrs Tina Westwood (Breed Specialist)

Open

2nd

RCC

Welsh Kennel Club

Mrs Jill Peak

Open

1st

BOB & 1st CC

Luxembourg

Mr Guy Kips

Open

1st Excellent

Luxembourg Ch & RCACIB & CACL

South Wales Kennel Association

Mr Bill Bunce

Open

1st

BOB

Mid Herts Gundog Club Show

Sky Westwood (Breed Specialist)

Open

1st

BOB

& RESERVE BEST IN SHOW

Toller Club of UK Open Show

Dr Ron James




Open

1st




RESERVE BEST IN SHOW




Holland Cup

Mr J De Cuyper

Open

1st Excellent

BOB, CAC, CACIB & Int ShCh title earned




Amsterdam Winner

Mr W Hochstenbach

Open

1st

Excellent

RCAC & RCACIB
Show name

Judge

Class

Placing

Comment

Stoke on Trent Gundog

Sky Westwood (Breed Specialist)

Junior

1st

Thames Valley Canine Association

Mrs L Trow

1st

Horley and District Canine

Ms S Tubb

1st

United Retriever Club

Mrs E Lacey

1st

Crufts

Mr C Bexon

Special Yearling

2nd

Qualifies for Crufts 2015

Hampshire Gundog Society

Mr P Goodall

Graduate

1st

NSDTR Club Of UK

Mr John Thirwell

Junior

2nd

Wellingborough Canine Society

Ms Roisin Howlett

Junior & Post Graduate

1st

Chertsey & District

Mr R Stafford

Post Graduate

1st

Mrs Jenny Miller

1st

Birmingham National

Mr Van den Burgh

1st

Scottish Kennel Club

Mrs V Foss

1st

&

2nd

RCC & SB Number earned

Southern Counties Canine Association

Mr Pekka Teini (Finland)

Limit

3rd

Three Counties

Mrs A Howes

Post Graduate

2nd

RBD

Windsor

Mrs M Edridge

Limit

2nd

RCC

Hampshire Gundog Society

Ms C Carter

Post Graduate

1st

NSDTR Club of UK

Mrs P Blay

Limit

1st

RESERVE BEST IN SHOW

Brussels

Mr A Komorowski

Open

1st Excellent

BOS 2CAC CACIB Benelux Winner BE 14

Mrs E Hughes

3rd
Show name

Judge

Class

Placing

Comment

South of England Gundog (Open Show)

Gill May

Junior

1st

Birmingham National

Mrs V Foss

Minor Puppy

1st

Qualifies for Crufts 2014

Mrs Babs Harding (Breed Specialist)

Puppy

1st

Mrs S Sevastupulo (Breed Specialist)

1st

National Gundog

Mrs B Hutchinson

2nd

United Retriever Club Championship

Mrs Jenny Miller

1st

Welsh Kennel Club

Mr Jeff Luscott

1st

Bedford & District Canine Society (Open)

Mrs Jacque Bayne

BP, BOB. Gundog Grp 4

Puppy Gundog Grp 3

Hitchin & District Canine Society (Open)

Mrs Sharon Rogers

1st

Best Puppy

United Retriever Club (Open)

Mrs J Darby

1st

Mrs L Cartledge

1st

BEST IN SHOW