ShCh/Int ShCh Riverwatcher Pikpaktuk JW, BJWLU'15, CW'16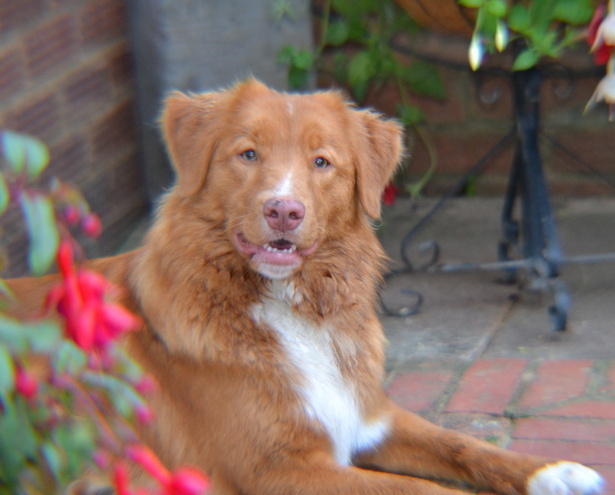 ShCh/Int ShCh, Lux Jr Ch Riverwatcher Pikpaktuk JW, CW'16
"CRUFTS 2020 Best Opposite Sex"
1x Group 4

8 Best of Breeds (5 UK,1 Ireland, 1 Belgian & 1 France )
10 Best Bitch
5x CC, 6x RCC
5x CACIB, 2x RCACIB
3x Green Star
Dog World / Arden Grange Joint Top Toller Puppy 2015
Riverwatcher Pikpaktuk's name means "precious" which she is as Riverwatcher Ikkuma's only daughter in a litter of 4. Her father is Multi Ch Littleriver's Prince Duckinson (Brutus), who lives in Saverne, France. She is beautifully marked although I think the white splodge on her face will disappear as she gets older.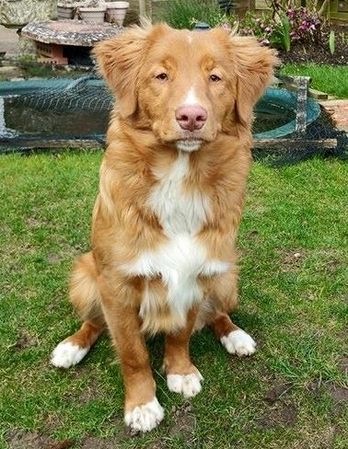 Riverwatcher Pikpaktuk has now reached 6 months of age and is as one would expect a naughty, rambunctious puppy. She is a real character lol! She recently had her first show at 6 months and 5 days in the Netherlands and was pronounced Best Puppy in Breed (her uncle Multi Ch Riverwatcher Atka was Best of Breed at the same show) - an auspicious start to her showing career.
She is now nearly a year old and has so far has been shown in Europe as well as the UK and has done extremely well. She has won a Best Puppy in Show at the Belgian Toller Club championship show , she has won 6 Best Puppies in Breed at various shows here and in Europe and even won BOS at Southern Counties Championship Show - she also qualified for Crufts at her first UK Championship Show.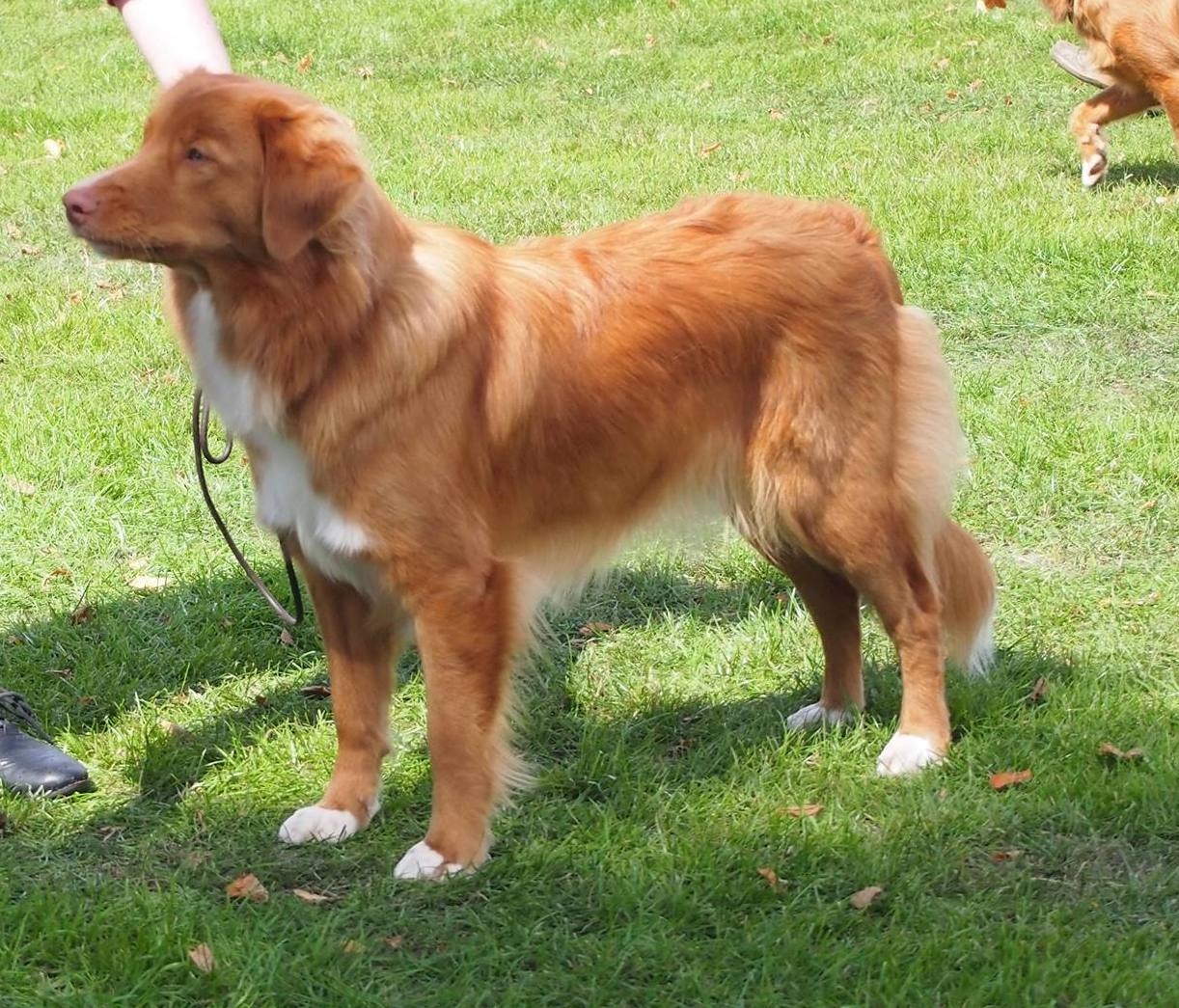 It is now March 2016 and Riverwatcher Pikpaktuk has really turned into a stunning girl, she is at the top end of the height standard but is very balanced. She has won 2x CACIBs, 1x Green Star and 1x RCACIB and a RCC. She was also the Joint Top Puppy in Breed 2015 and we picked up her prize at Crufts 2016. She is a Luxembourg Junior Champion, she earned her UK studbook number just before her 1st birthday and then shortly after it she earned her Junior Warrant.
In February 2016 she went Best of Breed at the Flanders show in Gent thank you to Mr Ronny Bloome who recognised the potential in her.
It is now September 2016 and Riverwatcher Pikpaktuk has had a fabulous year so far - she has won her 1st CC under Mrs Carole Coode and a 2nd RCC under Mr Jonathan Daltrey and she has now had 3 Best of Breeds beating her Uncle Multi Ch Riverwatcher Atka and also an AM GCH, and a couple of UK Show Champions on the way, including the UK's top winning toller in history, ShCh Trevargh the Entertainer at Brizewood!
Wow what a year it's been so far - it is now June 2017 and Riverwatcher Pikpaktuk is a UK SHOW CHAMPION and an INTERNATIONAL SHOW CHAMPION!!! This makes her the 3rd UK Show Champion that I have bred, one from each litter that we at Riverwatchers have produced. My thanks to the 3 Judges that awarded her the 3 CCs - Mrs Carole Coode at National Gundog in August 2016, Mr Jeff Horswell at SKC in May 2017 and Mrs Aidine Howes at Windsor in June 2017. The year has continued with Riverwatcher Pikpaktuk doing the double with her Uncle Multi Ch Riverwatcher Atka at Richmond Champ Show under Mrs Penny Williams - Multi Ch Riverwatcher Atka going BOB and ShCh/Int ShCh Riverwatcher Pikpaktuk getting the BOS.
When you don't think things can get any better, they suddenly do - this wonderful girl went and got a GUNDOG GROUP 4 at South Wales Kennel Association Championship show under Mr Bill Bunce.
Thank you to Theirry Delumeau for allowing me to use his boy to help produce this amazing girl and her brothers.
ShCh/Int ShCh Riverwather Pikpaktuk's Pedigree