ShCh/Int ShCh Riverwatcher Pikpaktuk's Show Results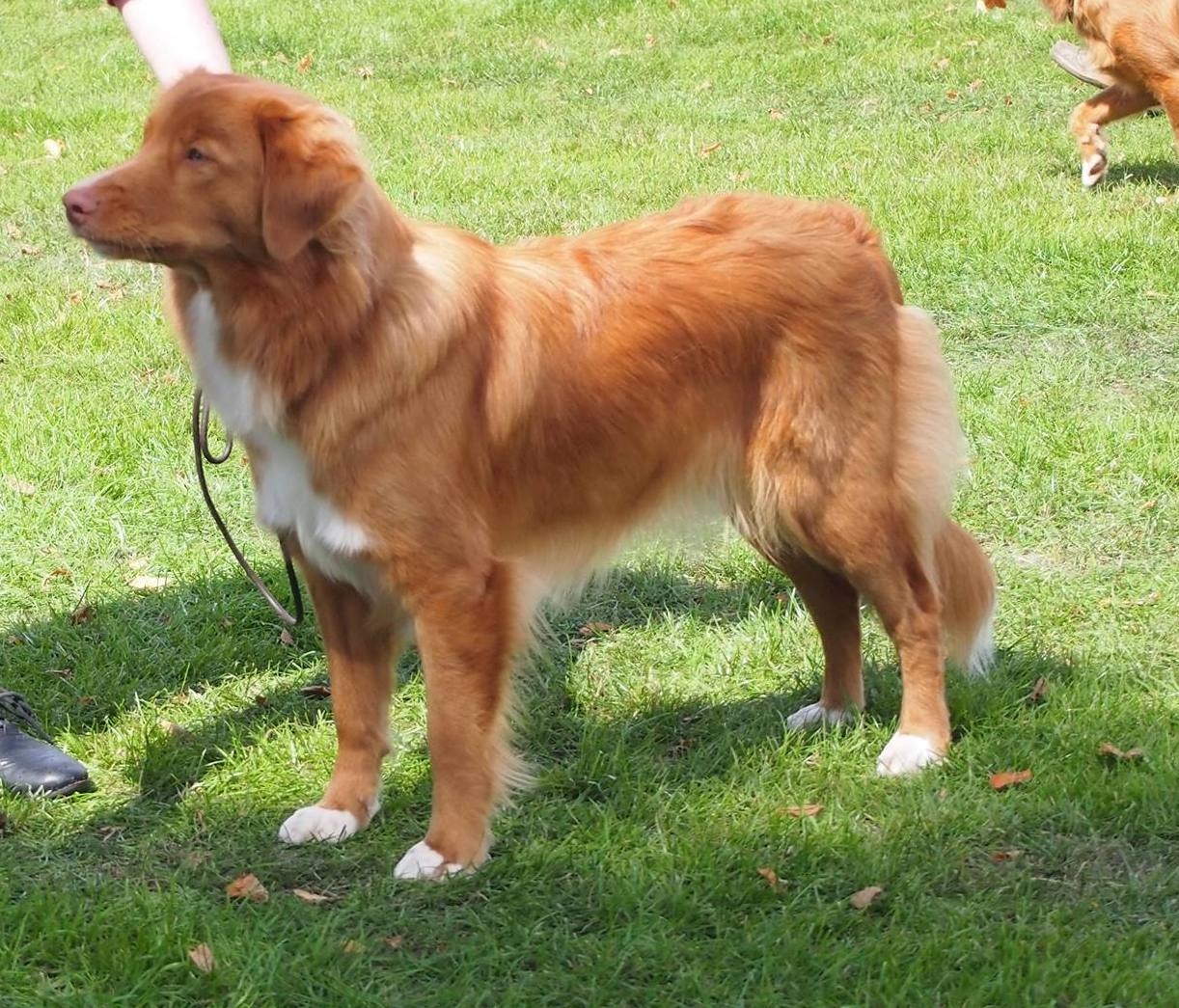 Riverwatcher Pikpaktuk aged 11 months
Mr Harri Lehkonen, SCCA Championship Show 2016 - "Very promising young bitch. Beautiful head & expression. Balanced angulation. Correct proportions, just needs time to mature & get more coat. Pleasing temperament & sound movement. BB & BP."
Mrs Tina Westwood Breed Specialist, NGA Championsip Show 2015 - "On the taller side but balanced throughout. Good lay of shoulder and bend to stifle, well boned. Straight front on neat feet. Moved at one with her handler. BP."
Ms Verena Neuburger, Richmond Championship Show 2015- "Promising young bitch already showing distinct Toller qualities. Feminine head and expression. Balanced standing and moving. Correct tail carriage and single tracking on moving. Correct angulations. Bone matching type. Desired colouring and coat. A lot of ring presence." BOB
Mrs Christine Powley Breed Specialist, South Wales Championship Show 2015 - "Anstead's Riverwatcher Pikpaktuk Lux Jun Ch. Lovely feminine head, nice body, tight feet, strong quarters, well muscled, nice outline and a good coat, good correct bite, moved with drive. BB"
Mr Henric Fryckstrand, Manchester Championship Show 2016 - "Anstead´s Riverwatcher Pikpaktuk. What a sound bitch of high quality she is, kindest of heads and expressions, excellent neck and good front assembly, very good body and feet, excellent ribs and deep through the heart, strong topline, good hindquarters, moved very well and shown in correct coat, well presented, RBB"
Mrs Carole Coode, National Gundog Championship Show 2016 - "My BCC & RBOB was Anstead's Riverwatcher Pikpaktuk, a super bitch with the strength & size that I was looking for. Nearly 2 years, beautiful outline, correct height to length ratio, sweet feminine head, excellent angles front & rear, great through the ribs with spring depth & length, strong short loin, good topline, very well turned stifle & low hocks. Sound movement, coming & going had the edge over 2 here, on well boned legs & tight feet – very well deserved. CC & RBOB"
Mr Gordon Haran, Richmond Championship Show 2016 - "Loved this girl, presented a typical outline, cracking head and that expression, good fill to body, good tailset and carriage, moved with that typical springy driving movement. BB and BOB"
Mr Andrew Brace, Midland Counties Championship Show 2016 - "Mature bitch of excellent type & shape, well bodied & conditioned. Quality head, moderate angulation, well boned & ribbed. Holds herself so well on the go around & is true out & back. BB"
Mr Jeff Horswell, Scottish Kennel Club Championship show 2017 "Anstead's Riverwatcher Pikpaktuk JW CW16. Beautifully conditioned bitch who is very well made. She has a lovely head, super eye and expression and well set ears. Strong and lengthy neck. Well laid shoulder. Well bodied with a good fill of chest. Strong rear,but could just use her rear slightly more in profile. Very typy bitch."
Mrs Aidine Howes, Windsor Championship Show 2017 "So well made all through, strong yet feminine in head she has a kind expression, clean shoulders and compact outline deep through chest to brisket spring to rib, strong quarters moved off quarters that were strong and short from hock to heel driven firmly with open jaunty gait, I was delighted to award her the BCC. I understand this was her 3rd. Many congratulations!"
Mrs Diane Stewart-Ritchie, Gundog Society of Wales 2017 "Anstead's Sh Ch Riverwatcher Pikpaktuk JW,CW'16. BB. She has such appeal. Loved her make, shape and type. Of correct size and with correct length to height proportions. Stands on super quality bone and neat tidy feet. Her topline is bang on and her croup and tailset match. Excelllent angulation fore and aft. Deep in chest and ribs carried well back to strong muscular loin. Wide in quarter and good first and second thigh width. I loved everything about her and most especially her glorious head. Her expression is devine. Another from this kennel who really comes together on the move. Reachy side gait and strong out and back. She really pushed the dog hard and if Id been judging with my heart I'd have given her BOB. The dog just edging her by a whisker today. I found her absolutely stunning! "
2018
| | | | | |
| --- | --- | --- | --- | --- |
| Show name | Judge | Class | Placing | Comment |
| Manchester Champ Show | Mr S Jobse | Open | 2nd | RBB |
| | | | | |
| | | | | |
| | | | | |
| | | | | |
| | | | | |
Show name
Judge
Class
Placing
Comment

Manchester Champ Show

Mr Keith Young

Open

1st

RBB

Merseyside Gundog Open Show

Mr R Stafford

Limit

1st

Crufts

Mr J Luscott

Open

3rd

NSDTR Club of UK Champ Show

Mrs Jenny Miller

Open

2nd

Combined Canine Int Ch Show

Mr T Bradley III

Open

1st Excellent

BOB, CACIB & Green Star Int Sh Ch title


Combined Canine National Ch Show

Mr S Scarpellini

Open

1st Excellent

RBOB & Green Star

Amiens

Mr R Soulat

Open

1st Excellent

CACIB & BOS

Birmingham National

Mrs Tina Westwood

Open

2nd

SKC

Mr Jeff Horswell

Open

1st

2nd BCC & BOS

Windsor

Mrs A Howes

Open

1st

3rd BCC -UK ShCh title

Hampshire Gundog Open Show

Mr R McDonald

Open

2nd

National Gundog

Mr D Hutchinson

Open

2nd

WKC

Mrs P Blay

Open

3rd

Richmond

Mrs P Williams

Open

1st

BOS

SWKA

Mr R Mosedale

Open

1st

BOB & Gundog Grp 4

Gundog Society of Wales

Mrs D Stewart-Ritchie

Open

1st

BOS

Midland Counties

Mrs S Pinkerton

Open

2nd

RBB

Gundog Breeds of Scotland

Mr B Bunce

Open

1st

BOB Shortlisted for BIS

NSDTR Club of UK Open Show

Mr R Bott

Open

2nd

Ladies Kennel Association

Mr C Atkinson

Open

1st

RBB
| | | | | |
| --- | --- | --- | --- | --- |
| Show name | Judge | Class | Placing | Comment |
| Hoogstraten, Belgium | I Kuyken | Intermediate | 1st Excellent | RCAC & RCACIB |
| Manchester, UK | H Fryckstrand | Junior | 1st | RBB |
| Gent, Belgium | R Bloome | Intermediate | 1st Excellent | BOB,CAC & CACIB |
| IKC Celtic Winners Show, Ireland | D Stewart Ritchie | Intermediate | 1st Excellent | Green Star & CACIB |
| Chertsey & District Canine Society | R Millan | Open | 2nd | |
| Belgian Retriever Club Championship | D Chalard | Intermediate | 1st Excellent | |
| Belgian Toller Club Championship | M Legrand Leloup | Intermediate | 2nd Excellent | |
| Birmingham National | Frank Kane | Open | 4th | |
| Scottish Kennel Club | John Thirwell | Open | 2nd | |
| Paignton & District | Sky Westwood | Open | 1st | BB & BOS |
| National Gundog Association | Carol Coode | Open | 1st | 1st CC & BOS |
| Welsh Kennel Club | Jonathan Daltrey | Open | 1st | RCC |
| City of Birmingham | Judy Harrington | Open | 1st | BOB |
| Richmond | Gordon Haran | Open | 1st | BOB |
| Maastricht Day 1 | W Holstenbech | Open | 1st Very Good | |
| Maastricht Day 2 | R Leelen | Open | 1st Excellent | RCACIB |
| Midland Counties Champ Show | A Brace | Open | 1st | BOS |
| Mid Herts Gundog Open Show | | Open | 2nd | |
| Holland Cup | M Blaha | Open | 2nd Excellent | |
| Amsterdam Winner Show | A Simons | Open | 2nd Excellent | |
Show name

Judge

Class

Placing

Comment

Martinidog Show, Netherlands

Dr L Hearn (Australia)

1st Very Promising

NSDTR Club of UK Champ Show

Mr Moray Armstrong

Puppy

2nd

Qualifies for Crufts 2016

Luxembourg

Mr W Van Den Broeck

Puppy

1st Very Promising

Belgian Retriever Club

Mr Frank Whyte

Puppy

1st Very Promising

Best Puppy & 3rd Best Puppy in Show

Belgian Toller Club

Ingrid Kuyken (Breed Specialist)

Puppy

1st Very Promising

Birmingham National

Mr Colin Troth

1st & 1st

SKC

Mr Jeff Luscott

Puppy & Junior

1st & 1st

Southern Counties

Mr Harri Lehkonen

Puppy

1st

Best Puppy

,

Best Opposite Sex

World Dog Show, Milan, Italy

Mr Nerilli Luigi

Junior

2nd Excellent

Windsor

Miss B Johnson

Puppy & Junior

1st & 1st

Hampshire Gundog

Ms Hilary Male

Special Yearling & Post Graduate

1st & 1st

Best Puppy

,

Best Opposite Sex

National Gundog

Mrs Tina Westwood(Breed Specialist)

Puppy, Junior & Graduate

1st, 1st & 1st

Best Puppy

Welsh Kennel Club

Mrs Jill Peak

Puppy & Junior

1st & 1st

RCC, BP & Stud Book Nos

Luxembourg

Mr Guy Kips

Junior

1st Excellent

Luxembourg Junior Champion BJWLU'15

Richmond

Ms Verena Neuberger

Junior, Post Graduate & Open

1st in all

BOB

South Wales Kennel Association

Mrs Christine Goldspink(Breed Specialist)

Junior

1st

Best Opposite Sex

Mid Herts Gundog

Ms Sky Westwood (Breed Specialist)

Junior & Graduate

2nd & 1st

Junior Warrant earned

Toller Club of UK Open Show

Dr Ron James




Junior & Graduate

1st & 1st

Holland Cup

Mr J De Cuyper

Intermediate

1st Very Good

Amsterdam Winner Show

Mr W Hochstenbach

Intermediate

1st Excellent