Koda's Show Results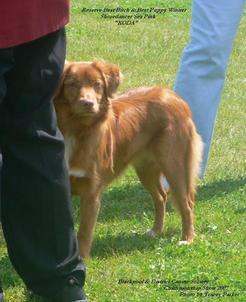 Koda has generally been well placed at shows and below are her results for the years that we have shown her. Her biggest achievement is that she is the only bitch to have received 3 Best of Breed Awards in the UK to date.
Jill Peak, Scottish Kennel Club Championship show 2012 wrote
"Pleasing head, good wedge, correct stop, clean neck & shoulders, good bone, legs & feet, strong body, good ribbing & strong loin, moved well using her quarters."
Tina Westwood, breed specialist, Scottish Kennel Club Championship show 2011 wrote
"

Has good length depth and shine to coat. She moved with passion today. Good lay back of shoulder, well muscled second thigh .Good wedged shape to skull and nice dark eye. She is the Mother of my best of breed. Well deserved Best Bitch"
Martin Widdowson, breed specialist, Leeds Championship show 2010 wrote
"

Quality bitch of lovely proportions. Correct height and in full coat. Good head with feminine expression. Good shoulder placement & front angulation. Ample chest & ribs. Close coupled. Good bend of stifle. Lovely movement with drive & well presented"
Elaine Whitehill, breed specialist, United Retriever Club Championship show 2009 wrote
"Attractive bitch, femine head, good eye & ear placement. Good depth to chest, excellent balance. Well bodied with excellent muscle tone. Carried tail correctly. Excellent movement with drive and purpose. A1 presentation of both dog & handler."
| | | | | |
| --- | --- | --- | --- | --- |
| 2015 | | | | |
| Show name | Judge | Class | Placing | Comment |
| | Ingrid Kuyken (Breed Specialist) | | | Best Veteran in Show |
| Scottish Kennel Club | | Veteran | 2nd | Qualifies for Crufts 2016 |
| World Dog Show, Milan, Italy | Mr Nerilli Luigi | Veteran | | |
| Douai, France | | Veteran | | Best Veteran |
| National Gundog | Mrs Tina Westwood (Breed Specialist) | Open | 2nd | Stud Book number |
| Welsh Kennel Club | Mrs Jill Peak | Veteran | 2nd | |
| | | | | |
2014

Show name

Judge

Class

Placing

Comment

Sky Westwood (Breed Specialist)

Thames Valley Canine Association

Open

1st

Birmingham National

Mr H Van den Burgh

Veteran

Qualifies for Crufts 2015

Scottish Kennel Club

Open

&

Veteran

VHC &
| | | | | |
| --- | --- | --- | --- | --- |
| 2013 | | | | |
| Show name | Judge | Class | Placing | Comment |
| | | | | |
| SKC | Mrs Babs Harding (Breed Specialist) | Open | 3rd | Qualified for Crufts 2014 |
| Hitchin & District | Mrs Sharon Rogers | Open | 1st | RBOB |
| NSDTR Club of UK | Mrs L Cartledge | Veteran | 3rd | Best Veteran Bitch |
| | | | | |
| | | | | |
| --- | --- | --- | --- | --- |
| 2012 | | | | |
| Show name | Judge | Class | Placing | Comment |
| Mouscron, Belgium | | | | CAC-CACIB |
| Maidenhead & District Open Show | | Open | 1st | |
| Mid-Western Gundog Club Open Show | Mrs Barney | Open | 1st | |
| | | | | |
| | | | Excellent 1st | CAC-CACIB |
| WELKS | Mrs Tina Westwood (Breed Specialist) | Open | 1st | Best Bitch |
| | | | | BEST OF BREED |
| | | | | |
| | | | | |
| --- | --- | --- | --- | --- |
| 2011 | | | | |
| | | | | |
| Show name | Judge | Class | Placing | Comment |
| DFS Crufts 2011 | Mrs Babs Harding (Breed Specialist) | | | Qualified for Crufts 2012 |
| | Mrs Tina Westwood (Breed Specialist) | Open | 1st | Best Bitch |
| | Mrs Paula Heikkinen-Lehkonen | Open | 1st | Best Bitch |
| | | | | |
| | | | | |
| | | | | |
| | | | | |
| | | | | |
| --- | --- | --- | --- | --- |
| 2010 | | | | |
| Show name | Judge | Class | Placing | Comment |
| DFS Crufts 2010 | | | | not bad for an out of coat toller! |
| | | | | Qualified for Crufts 2011 |
| | | | | |
| Southern Counties Canine Association | | | | |
| | | | | |
| | | | | Reserve Best Bitch |
| | Mr Martin Widdowson (Breed Specialist) | | BOB | BEST OF BREED |
| Paignton & District | Mr Colin Troth | Open | VHC | |
| National Gundog Association | Mrs A Moss | Open | 2nd | |
| United Retriever Club | Mr J Luscott | Open | | |
| Welsh Kennel Club | Mrs Valerie Foss | Open | 1st | Reserve Best Bitch |
| Midland Counties | Mrs Carol Widdowson | Open | | Reserve Best Bitch |
| | | | | |
| --- | --- | --- | --- | --- |
| 2009 | | | | |
| Show name | Judge | Class | Placing | Comment |
| | | | | Reserve Best Bitch |
| Southern Counties Canine Association | | | | Best Bitch |
| | | | | Best Bitch |
| | Mrs E Whitehill (Breed Specialist) | | | BEST OF BREED |
| Boston & District Canine Society | | | | |
| | | | | |
| | | | | |
| | | | | |
| | | | | |
| --- | --- | --- | --- | --- |
| 2008 | | | | |
| Show name | Judge | Class | Placing | Comment |
| Southern Counties Canine Association | | | | Best Bitch |
| | | | | Best Bitch |
| | | | | Best Bitch |
| | | Post Graduate Dog or Bitch | | |
| | | | | |
| | | | | |
| | | | | |
| | | | | |
| | | | | |
| | | | | |
| | | | | |
| | | | | |
| | | | | |
| --- | --- | --- | --- | --- |
| 2007 | | | | |
| Show name | Judge | Class | Placing | Comment |
| | | | | Best Puppy |
| Southern Counties Canine Association | Mrs P Beisel-Mcilwaine (USA) | | | Best Puppy |
| | | | | Reserve Best Bitch & Best Puppy |
| | | | | Best Bitch & Best Puppy |
| | | | | Reserve Best Bitch |
| | | | | |
| | | | | |
| | | | | |
| | | | | |
| | | | | |
| | | | | |